What to buy:
I get asked this question quite often and it's not always a simple answer! It really comes down to your budget, what kit you already have (if any) and if you want to cook on charcoal or something else.
I started typing this up ages ago and it kept growing over time but it was a bit long and rambling without any real order to it. I was chatting to some of the UK BBQ Week team about a similar article we thought we should write and someone (Marcus I think) suggested categories of "Essentials" and "Nice to have" which solved my formatting issue!
The Essentials:
Chimney Starter:
Flamers:
Thermapen
Charcoal:
Briquettes:
Smoking Woods:
Gloves:
Tongs:
Nice to have:
Maverick:
Rotisserie:
Grill Grates:
Cold Smoke Generator:
Books:
BBQ Guru:
Vortex
Afterburner
---
The main kit:
I had a fairly rubbish BBQ before I went to Grillstock in 2013. I bought it when we moved from a flat to a house and was excited to have a garden so wanted a BBQ to cook outdoors. It looked a bit like this: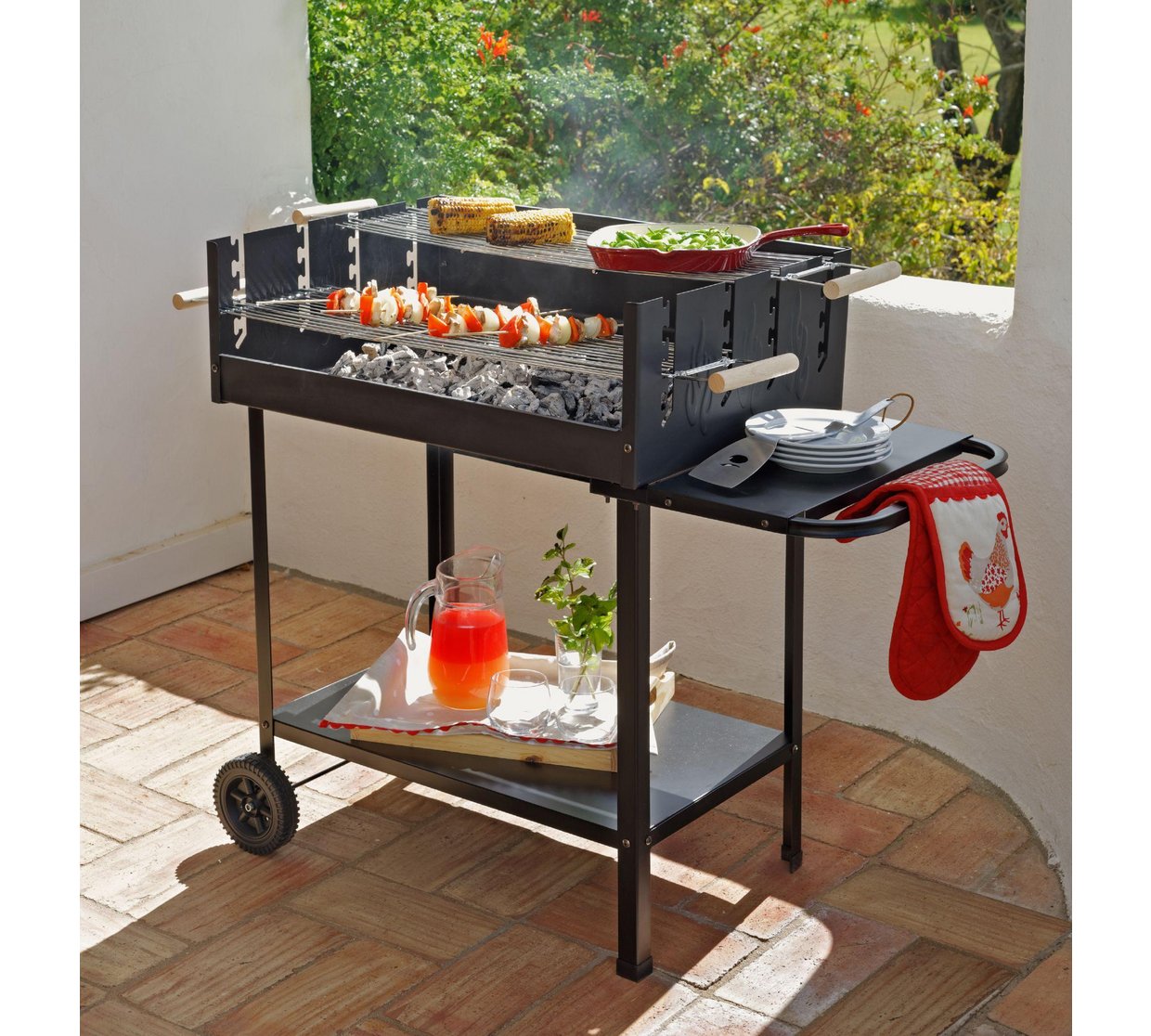 It was charcoal so that's a plus but it was quite a large base so I always ended up filling it with charcoal and would struggle to light it so ended up buying easy light charcoal with the accelerants added which would make the food taste of petrol. The BBQ didn't have a lid on either so it was hard to regulate the temperature and although the grill height could be altered I remember it used to take ages to cook stuff and would usually be burnt also.
From what I learnt at Grillstock I bought myself a Grill and a Smoker, both from Weber – the old BBQ went to the tip!
---
Grill:
I always recommend a Weber Kettle grill to people when they ask me and there are a number of reasons:
Great build quality, warranty and customer service.

Simple to use and easy to get some great results.

The lid helps to control the heat so you can cook the food without burning it.

Vents at the top and bottom to help control air flow and temperature.

The grill is large enough to run a hot and cold zone to help cook the food properly.

Depending which one you buy they are easy to clean with the ash catcher tray.

Weber offer a large range of accessories which help increase the range of dishes you can cook.
The Weber premium kettle is about £200 but if you can stretch to it the Master Touch version comes with the Gourmet BBQ System (GBS) which offers various inserts such as a sear grate, griddle and pizza stone. The Master Touch kettle is about £240 and the GBS kit is extra on top. The Original Weber Kettle is cheaper but it doesn't have the pan underneath to catch the ash so is harder to clean, if you can live with that they are about £150 but I find the ash pan so handy when cleaning it's worth the extra £50 for the Premium version. All versions work with the brilliant rotisserie attachment – more on this later!
Weber Original Kettle
Weber Premium Kettle
Weber Master Touch Kettle
You can use a Kettle BBQ as a smoker for low and slow cooking as well. I haven't done it myself as I use the Weber Smokey Mountain for low and slow but it is possible to use the grill, just looks a little bit harder to maintain temperature to me.
Other grills are available such as the Kamado style grills. Main players in this market are Kamado Joe, Big Green Egg and Monolith Kamado – I don't have any of these so can't comment but a lot of folk in the BBQ community have them, mainly the Kamado Joe grills I would say.
---
Smoker:
The smoker is used for low and slow cooking. It typically runs at between 225F and 275F to cook large cuts of meat like brisket or pork butt for 12 to 16 hours.
I saw the ProQ range at Grillstock which would have offered an all in one grill and smoker but at the time the metal didn't look or feel as thick as the Weber gear. The current range of ProQ kit is thicker and looks really nice, either Weber or ProQ would be ideal for a smoker but the ProQ can also be used as a grill which can save you buying two things.
So, if you already have a good grill such as a Weber Kettle you could buy the Weber Smokey Mountain or ProQ Excel Elite for low and slow cooking – each is about £400.
If you don't have a good grill already and either space or budget is tight the ProQ will operate as both a grill and a smoker.
Weber Smokey Mountain
ProQ Excel Elite
I have linked to the 57cm versions of the smokers only because that is what I bought. There are smaller versions which will use less fuel to run but I have cooked a few big slabs of meat which have only just fitted in the 57cm smoker so I would recommend that one. I have been cooking a few extra bits at the same time when it's running to make the best use of the fuel too.
Other smokers (Bristol Drum Smokers) are available and some even burn wood pellets (Traegar and Green Mountain Grills) but I haven't used these so can't comment on them. A lot of folk in the BBQ community do use these smokers and they all only seem to have good things to say. Certainly on the wood pellet front you can make your life a lot easier and get great, consistent results from them.
---
The Essentials:
These are a few things which I always recommend to people to buy when they buy a grill or smoker, they really are all essential items that will make your life much easier!
Chimney Starter:
With my old grill I used to have nothing but trouble getting the charcoal lit which meant the food was always late and I never got an equal spread of lit charcoal in the grill. One of the best things I bought with my Weber grill was a chimney starter:
Weber Chimney Starter
These things are a total game changer when cooking BBQ food. Fill it up with charcoal and light it underneath (I use flamers – more on these next) then walk away for 10 minutes at which point the whole chimney is lit and ready to be poured into the grill. These are about £20 but you can get unbranded versions in DIY stores for about £10.
ProQ also have a version which looks even more impressive, it's about £20 again:
Pro Q Chimney Starter
---
Flamers:
These are made in the UK from rolled strands of natural, untreated wood shavings which are then dipped in paraffin wax (odourless) – 2 of these under the chimney will get you going in no time.
200 for £24.99 – sounds quite a lot but I only use 2 each time to light the chimney so 24p per time!
I used to use firelighters but I could detect a trace of fuel when eating food sometimes and these have stopped that.
---
Thermapen:
Before I bought my Weber gear I never quite knew when the food was cooked or if it was ready to eat. I would always cut into things and make sure it was cooked enough but this usually resulted in the food being overcooked (burnt!).
The Thermapen from ETI solves this. It's an instant read thermometer which you put into the food to check the internal temperature of the meat. To quote Richard Holden: "75, stay alive" (75 degrees celsius).
This is a great little bit of kit. The older V3 that I have is only £30 on Amazon at the moment, the newer version is about £60. With the Thermapen it has taken the guess work out of every cook I have done because you know without doubt what temperature the meat has been cooked to. Get one of these and take the worry out of your cooks.
---
C
harcoal:
Oxford Charcoal – http://www.theoxfordcharcoalcompany.co.uk/
Yes it's more expensive per KG than the bags in the supermarket or at the petrol station but it's also from British grown trees, has no added chemicals, lights quickly, doesn't give off black smoke when lit, doesn't smell of chemicals when burning, doesn't spark like a firework show and is a clean burning charcoal (as clean as charcoal can be! It's spot on for cooking steaks directly on the charcoal).
I have tried just about every type of charcoal you can buy in the UK and it's just a lottery with quality varying from bag to bag. I have had bags of dust, bags with metal and plastic in, bags that sparked like a firework show, bags that gave off so much smoke I had to hide indoors, bags that wouldn't light and bags that I didn't want to cook food on. Oxford Charcoal is the exception to every one of those issues. It's a quality and consistent product. It is more expensive per KG but you are getting what you pay for and there is no point having expensive bbq gear and expensive, good quality meat then cooking it with bad charcoal.
If you still aren't convinced listen to the UnitedQ podcast with Matt Williams from Oxford Charcoal.
---
Briquettes:
I use briquettes in my smoker because they are easy to manage the temperature with and it's also fairly easy to estimate how much fuel you need up front to avoid having to top up during a cook.
I started off with Weber white bag briquettes which were really good but they were replaced with a newer version which I found burnt quicker, hotter and for a shorter time so I tried Heat Beads and haven't moved back. It's very easy to get heat beads to the temperature you want to cook at and just leave them after that. I usually buy mine from BBQ World. 9x 4kg bags usually comes in just over £50 for free delivery.
---
Smoking Woods:
Smokewood Shack – http://www.smokewoodshack.com/
Another great quality product and one that I use almost exclusively when grilling, smoking and cold smoking. James has a wide variety of wood types available in chunks, chips and dust form with offers on for bulk purchases. Delivery is always quick and the quality of the product is always top notch.
---
Gloves:
I have burnt myself so many times when grilling it's not funny. In one of Tim Hayward's books he recommends buying welding gloves to use with the BBQ. They are fairly cheap to buy but incredibly heat resistent. I have used mine to pick up and move lit bits of charcoal before! I can't remember where I bought mine but it was online and they were under £10.
---
Tongs:
Mine were really cheap and I bought them with that first grill. You don't need anything flash, just something you can flip meat with.
---
Nice to have:
Once you have the essentials and when folk are always asking what you want for your birthday or for Christmas, here are some ideas:
Maverick:
I originally had a Maverick ET-732 and it served me well. It's a thermometer but you put a probe in the smoker to measure the pit heat and a probe in the meat to track the internal temperature of the meat. Now you already have a Thermapen so why do you need this? Because each time you open up the smoker it lets out heat and smoke then takes a while to get back up to temperature. This let's you track your temps without even going outside! It even has alarms you can set if it goes above or below either setting. The best thing about the Maverick gear is you get a separate receiver that connects to the probe box through Bluetooth and the range is stated as up to 300 feet. I have taken mine with me when I have visited friends 15 houses away down the street and it maintained the signal which is great.
My original Maverick ET-732 broke after 3 years of solid service. Not too sure what happened to it and I was about to buy the newer ET-733 when Weber sent me an iGrill 2. The iGrill is a nice bit of kit which connects to an app on your phone but I have had issues with the range to the point I have to leave my phone at the back door to track temps. I am probably going to buy something else and at the moment that would be the Maverick ET-733 which is about £50.
---
Rotisserie:
The Weber Rotisserie for the Kettle Grills is one of the best accessories I have bought. Each dish cooked on the rotisserie has come out seemingly juicier and more evenly cooked. You can't beat a rotisserie chicken I think!
It's about £150 but worth every penny. We even do our Christmas Turkey on it because not only does it taste so much better but you release all that space in your oven to cook other stuff!
---
Grill Grates:
Here is the tag line for Grill Grates:
Made of hard anodized aluminium, each grate emits infrared heat, which increases the grill surface temperature, reduces burning, and delivers restaurant quality sear marks all at once. GrillGrates are the perfect replacement for old, rusted out grates.
I have found they get hotter than the original grill rack and warm up quicker too. If you want those nice sear marks on your meat these are the best way to achieve it:
They are also very handy at stopping flames from flare ups hitting and burning your food.
An added bonus is that if you flip them over you can use them as a griddle. I cook all my burgers this way! With a bowl on top as a cloche it's a sure fire way to melt the cheese:
---
Cold Smoke Generator:
The Pro Q cold smoke generator (CSG) is a genius invention which slowly smokes your food for up to 12 hours.
The main thing I have used this for is to smoke my own bacon after it's been cured. Once you cure and smoke your own bacon you will never buy it from the shops again!
---
Books
I love cook books, so much so I wrote a whole article on it before! This article lists all the books I have cooked from so far this year with photos from each cook and a link to that blog entry with tips on how to improve each cook.
---
BBQ Guru
Back when I first started using my smoker I seemed to spend most of my time going outside to adjust the vents to maintain temperature, it used to drive me mad so I bought a BBQ Guru DX2. You connect a fan to one of your vents (with an adapter) then put a probe in the smoker for pit temperature and a probe in the food. You set the values you want to maintain the pit at and when you want the food to come off. The Guru then blows air to raise temperature or shuts the vent to reduce temperature. Some folk consider it cheating but not many people can keep going out to a smoker every 20 minutes!
Since moving to heat beads in the smoker I have found it far easier to maintain 225F cooking temperature just by closing 2 vents, keeping the front vent half open and the top vent totally open so it could well have been a fuel / user error issue in the past.
---
Vortex
The vortex is an interesting piece of kit which I mainly use when cooking chicken wings or for searing a steak. It looks like a dome that's had it's top cut off but with fuel inside the dome it creates a high temperature above.
It can be used for:
Indirect – Low and Slow cooking: Coals around the outside and lit at one end for snake/minion method.
Direct – High Heat Searing: Like the afterburner tool, place your food over the top and give it a good sear.
Indirect-Direct: High Heat Indirect Cooking: Vortex creates a high heat that is directed upwards then radiates down around the BBQ lid creating an even high heat. This method is meant to give you crispy chicken skin without running the risk of burning the chicken over direct heat – This was the method used for the wings.
Infrared – Radiant Heat: Lit fuel around the outside of the vortex and meat inside the vortex (such as a whole chicken) to deflect the direct heat but radiates high heat to allow for even cooking.
---
Afterburner
This is very cool. It's a little grill which sits on top of your chimney starter so you can cook small items of meat such as steak. It's for when something needs a quick blast of heat/fire and you don't want or need to set the grill up.
You can see how hot it gets!
Great way to cook a steak, something a bit different too.
---
That's all I can think of for now. If anyone has any ideas for other items that should be on this list then please just drop me a note and I will add them.
Hope this list helps, drop me a note on Twitter if you have any questions.